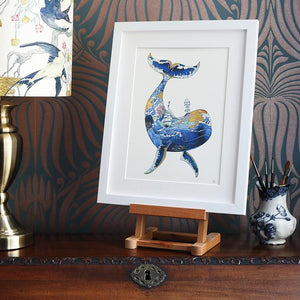 I love this story! It is old, it comes from the 2nd Centry, probably from Greece. Sailors mistake sleeping whales for islands. They would tether their ships to the "island", disembark and set up camp. The whale would then plunge to the depths of the ocean sinking all the ships and drowning the sailors.
This print is available in three sizes, 10 x 8 inches, 11 x 14 inches and 14 x18 inches.
See this painting in progress and read about sailors mistake sleeping whales for islands
Signed by the artist.
Size, 11 x 14 inches
Reproduced from Daniel Mackie's watercolour painting, this print is printed on somerset velvet 225gsm fine art paper. All prints are mounted and backed with white core polar ingress mount board. 

Copyright © 2020 Daniel Mackie All Rights Reserved.