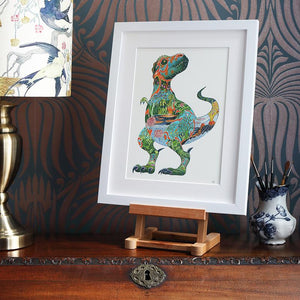 T. Rex, the undisputed king of the dinosaur world. This 7 tonne, 43 foot long carnivore ruled the plains of North America in the final years of the Age of Dinosaurs. The reputation of this Tyrant lizard should not be underestimated! It had a huge skull rammed full of sharp teeth the size of bananas (some of the biggest ever seen in a predator) as well as this it had a relatively large brain and senses which were attuned for hunting. It really was the greatest predator in our planet's history.
This Tyrannosaurus Rex print is available in three sizes, 10 x 8 inches, 11 x 14 inches and 14 x 18 inches.

Signed by the artist.
Size, 11 x 14 inches
Reproduced from Daniel Mackie's watercolour painting, this print is printed on somerset velvet 225gsm fine art paper. All prints are mounted and backed with white core polar ingress mount board. 

Copyright © 2020 Daniel Mackie All Rights Reserved.