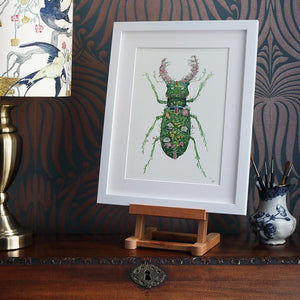 With names like, 'thunder spreader 'and 'fire spreader', the stag beetle is associated with the darker aspects of culture. According to British folklore, Stag Beetles summoned thunder and lightning storms, which scared the wits out of medieval peasants who also believed that they flew around with hot coals in their jaws setting fire to buildings!
This print is available in three sizes, 10 x 8 inches, 11 x 14 inches and 14 x18 inches.
Signed by the artist.
Size, 11 x 14 inches
Reproduced from Daniel Mackie's watercolour painting, this print is printed on somerset velvet 225gsm fine art paper. All prints are mounted and backed with white core polar ingress mount board. 

Copyright © 2020 Daniel Mackie All Rights Reserved.