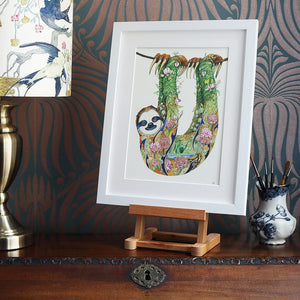 Aergia is a greek goddess, she is the personification of sloth, She is one of the children of the primordial deities Aether (air) and Gaia (earth). Aergia is said to guard the court of Hypnos (Sleep) in the Underworld. Be careful because if you fall under her influence she will claim rule over you. Keep in mind her opposite, Horme, the goddess of effort. She will help you fulfill your destiny.
This print is available in three sizes, 10 x 8 inches, 11 x 14 inches and 14 x18 inches.
Signed by the artist.
Size, 11 x 14 inches
Reproduced from Daniel Mackie's watercolour painting, this print is printed on somerset velvet 225gsm fine art paper. All prints are mounted and backed with white core polar ingress mount board. 

Copyright © 2020 Daniel Mackie All Rights Reserved.