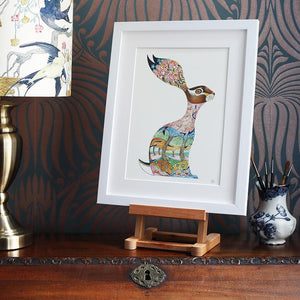 Why are hares associated with the moon? Hares are fundamentally nocturnal. Nighttime was once a very dangerous place and the moon was once believed to actually cause madness, (hence luna / lunacy). Knowing that the hare regularly went about its business under a mania-inducing moon, it was assumed that this was the cause for their 'madness' during spring. The mad March hare was indeed seen as 'moon-struck'.
This print is available in three sizes, 10 x 8 inches, 11 x 14 inches and 14 x18 inches.
Signed by the artist.
Size, 11 x 14 inches
Reproduced from Daniel Mackie's watercolour painting, this print is printed on somerset velvet 225gsm fine art paper. All prints are mounted and backed with white core polar ingress mount board. 

Copyright © 2020 Daniel Mackie All Rights Reserved.