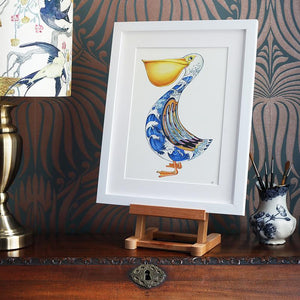 The pelican is associated in Ancient Egypt to the afterlife. It was believed to be a protective symbol. The pelican is referred to in the Pyramid Texts as the "mother of the king" and thus seen as a goddess.  It was believed that the pelican possessed the ability to prophesy safe passage in the underworld.
This print is available in three sizes, 10 x 8 inches, 11 x 14 inches and 14 x 18 inches.
Signed by the artist.
Size, 11 x 14 inches
Reproduced from Daniel Mackie's watercolour painting, this print is printed on somerset velvet 225gsm fine art paper. All prints are mounted and backed with white core polar ingress mount board. 

Copyright © 2020 Daniel Mackie All Rights Reserved.