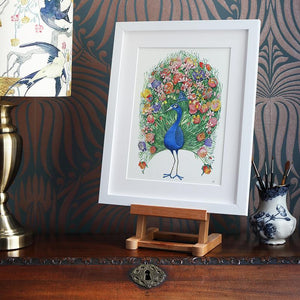 In Greek Mythology, Hera, the queen of the gods has her chariot pulled by peacocks. In Indian and Greek mythology Peacocks feature and as symbols of sight and immortality.
This print is available in three sizes, 10 x 8 inches, 11 x 14 inches and 14 x 18 inches.
Signed by the artist.
Size, 11 x 14 inches
Reproduced from Daniel Mackie's watercolour painting, this print is printed on somerset velvet 225gsm fine art paper. All prints are mounted and backed with white core polar ingress mount board. 

Copyright © 2020 Daniel Mackie All Rights Reserved.