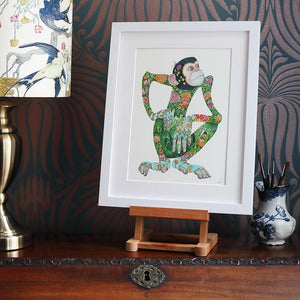 During the neck and neck run up to the 2016 US election, the winning candidate was selected by a fortune telling monkey called "Geda", who had previously predicted Portugals win over France in the 2016 European Cup final. Geda was presented with two cardboard cutouts of the US candidates. After giving the task considerable thought, the mystical monkey went deliberately over to Trump and planted a big kiss on his face.
This print is available in three sizes, 10 x 8 inches, 11 x 14 inches and 14 x18 inches.
Signed by the artist.
Size, 11 x 14 inches
Reproduced from Daniel Mackie's watercolour painting, this print is printed on somerset velvet 225gsm fine art paper. All prints are mounted and backed with white core polar ingress mount board. 

Copyright © 2020 Daniel Mackie All Rights Reserved.