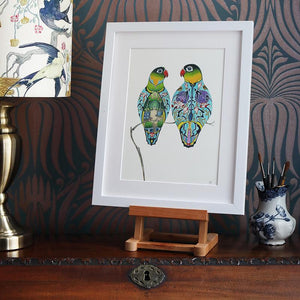 It isn't just humans who romanticise one another, animals do too, and funny enough some of the most affectionate animals are actually birds - and who is king and queen of the sycophants? Why, the Lovebirds of course.
This print of an Lovebirds is available in three sizes, 10 x 8 inches, 11 x 14 inches.
Signed by the artist.
Size, 11 x 14 inches
Reproduced from Daniel Mackie's watercolour painting, this print is printed on somerset velvet 225gsm fine art paper. All prints are mounted and backed with white core polar ingress mount board. 

Copyright © 2020 Daniel Mackie All Rights Reserved.