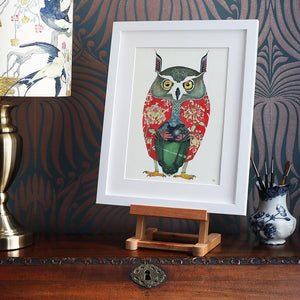 Shakespeare described the owl as the bird with 'five wits' in King Lear (Act 3, Scene 4), drawing on its long held association with wisdom. Owls often get a mention in Shakespeare's plays, perhaps because of their potency as an omen in folklore.
This print is available in three sizes, 10 x 8 inches, 11 x 14 inches and 14 x18 inches and is signed by the artist.
Size, 11 x 14 inches
Reproduced from Daniel Mackie's watercolour painting, this print is printed on somerset velvet 225gsm fine art paper. All prints are mounted and backed with white core polar ingress mount board. 

Copyright © 2020 Daniel Mackie All Rights Reserved.