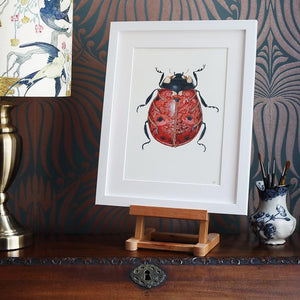 The Ladybird is sometimes called the farmer's friend. Since ancient times she has been considered a protector of the people and their food supply. The ladybird eats pests (most notably aphids) and has thereby rendered a service to the agricultural industry that is calculated to be in the billions of dollars.
This print is available in two sizes, 10 x 8 inches, 11 x 14 inches.
Signed by the artist.
Size, 11 x 14 inches
Reproduced from Daniel Mackie's watercolour painting, this print is printed on somerset velvet 225gsm fine art paper. All prints are mounted and backed with white core polar ingress mount board. 

Copyright © 2020 Daniel Mackie All Rights Reserved.