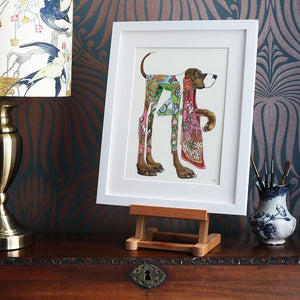 How sensitive is your nose? The Scenthound breeds are generally regarded as having some of the most sensitive noses among canines. 
The theory goes that the long ears aid the wafting of sent into the scent hounds sensitive nose and their loose, moist lips are help in trapping scent particles.
This print is available in three sizes, 10 x 8 inches, 11 x 14 inches and 14 x18 inches and is signed by the artist.
Size, 11 x 14 inches
Reproduced from Daniel Mackie's watercolour painting, this print is printed on somerset velvet 225gsm fine art paper. All prints are mounted and backed with white core polar ingress mount board. 

Copyright © 2020 Daniel Mackie All Rights Reserved.