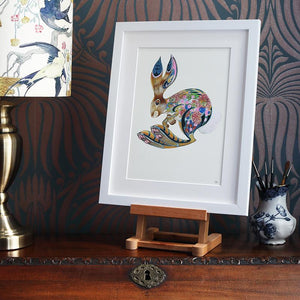 Rabbits have long been considered symbols of fertility or rebirth, often associated with Spring, the season of new beginnings.  They are also a notable motif within Easter celebrations – who doesn't love an Easter Bunny? The species' role as a prey animal also led to its association with innocence.
This print is available in three sizes, 10 x 8 inches, 11 x 14 inches and 14 x 18 inches.
Signed by the artist.
Size, 11 x 14 inches
Reproduced from Daniel Mackie's watercolour painting, this print is printed on somerset velvet 225gsm fine art paper. All prints are mounted and backed with white core polar ingress mount board. 

Copyright © 2020 Daniel Mackie All Rights Reserved.