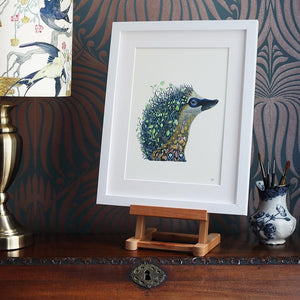 "The Hedgehog and the Fox" is an essay by philosopher Isaiah Berlin. It divides people into two groups, those who are "Hedgehogs", people who view the world through the lens of a single defining idea.  And, "Foxes" ,who draw on a wide variety of experiences and for whom the world cannot be boiled down to a single idea. Which one are you?
This print is available in three sizes, 10 x 8 inches, 11 x 14 inches and 14 x18 inches.
Signed by the artist.
Size, 11 x 14 inches
Reproduced from Daniel Mackie's watercolour painting, this print is printed on somerset velvet 225gsm fine art paper. All prints are mounted and backed with white core polar ingress mount board. 

Copyright © 2020 Daniel Mackie All Rights Reserved.