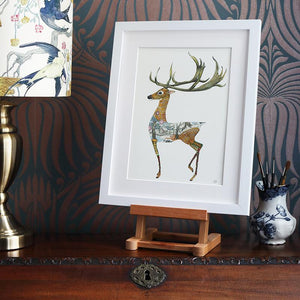 In the Scottish Highlands, deer were once known as "fairy cattle" and were believed to be milked by fairies. They were also credited with human emotion, being one of the few animals capable of shedding tears, although deer tears are really just an oily secretion from the eye, rather than an emotive outpouring!
This print is available in three sizes, 10 x 8 inches, 11 x 14 inches and 14 x18 inches and is signed by the artist.
Size, 11 x 14 inches
Reproduced from Daniel Mackie's watercolour painting, this print is printed on somerset velvet 225gsm fine art paper. All prints are mounted and backed with white core polar ingress mount board. 

Copyright © 2020 Daniel Mackie All Rights Reserved.