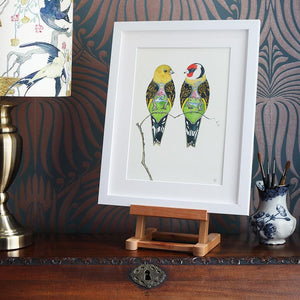 Goldfinches are one of the most symbolic european birds. From the Renaissance they have be used to represent, salvation, freedom and wealth. In the 18th c. story, The Marriage of Cock Robin and Jenny Wren, The goldfinch is portaried as rich. "Who gives this Maid away? 

I do, says the goldfinch, and her fortune I will pay".
Size, 11 x 14 inches
Reproduced from Daniel Mackie's watercolour painting, this print is printed on somerset velvet 225gsm fine art paper. All prints are mounted and backed with white core polar ingress mount board. 

Copyright © 2020 Daniel Mackie All Rights Reserved.