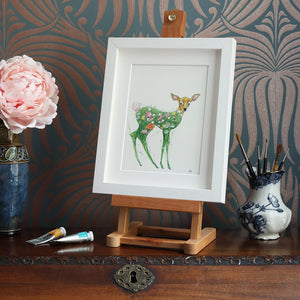 In Greek mythology, the deer is particularly associated with Artemis in her role as virginal huntress. When Actaeon witnesses Artemis bathing naked in a pool in the forest, he pays a heavy price.  In her anger, she transforms him into a stag, which is then torn apart by his own hunting hounds..
Size, 11 x 14 inches
Reproduced from Daniel Mackie's watercolour painting, this print is printed on somerset velvet 225gsm fine art paper. All prints are mounted and backed with white core polar ingress mount board. 

Copyright © 2020 Daniel Mackie All Rights Reserved.