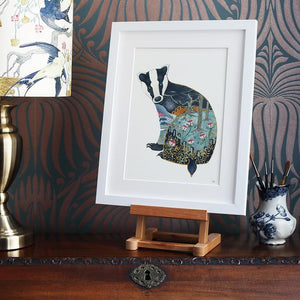 The badger has been blessed with various names over the centuries; 'badger' is relatively recent, traced back to 1523. Some say it comes from the french word 'becheur', which means 'a digger'. Prior to this, and still in colloquial usage today, was 'brock', which is Old English from even older Celtic.
Size, 11 x 14 inches
Reproduced from Daniel Mackie's watercolour painting, this print is printed on somerset velvet 225gsm fine art paper. All prints are mounted and backed with white core polar ingress mount board. 

Copyright © 2020 Daniel Mackie All Rights Reserved.